I ventured into the world of polymer clay tiles while making Christmas gifts this holiday season. I thought I would share my process here.
1. Prepare your images. I cropped mine to 1x1" since that is the size of the cutter I want to use. I also reversed the images by selecting "rotate" and then "flip horizontal". I printed mine on June Taylor print and press iron-on transfers for inkjet printers (blue package). I bought these from WalMart. You can also add text to your images before flipping.
2. Work with your clay until it is soft and easy to roll. I bought the original Sculpey oven bake clay. I rolled it to 3/16" (or so). I rolled mine on a 6x8 bathroom tile I purchased at Home Depot for .49.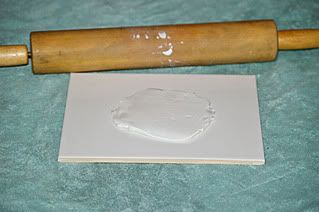 3. Cut your tiles. You can use any shape you want.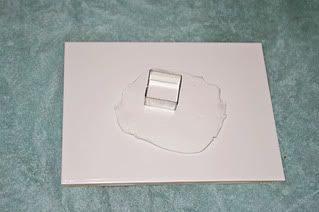 4. Here is where a little trial and error comes in. Some people cut out their images and place them on the tiles and then peel off the backing. This proved to be very difficult for me. I opted to peel off the backing to the entire sheet before cutting out my photos. They were a little flimsy to cut, but it worked beautifully. Cut your photos to size.
5. Punch holes in your tiles if you are going to add a jump ring, ribbon, etc. I used the pointed end of a meat thermometer. It worked perfectly. Apply a light layer of Liquid Sculpey (I got mine at Hobby Lobby) with a brush. Allow it to level out.
6. Place your photo with the printed side down onto the liquid sculpey layer. The layer you peeled off is now the top layer.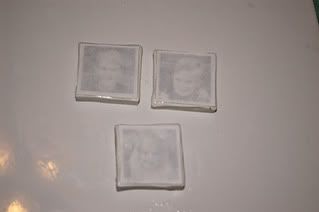 7. Wipe away any excess liquid sculpey. Bake at 275 degrees for 15-17 minutes. I baked mine right on the bathroom tile.
8. Remove the paper backing. I let them sit for 5-10 minutes after baking before peeling the backing off.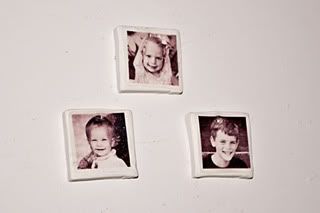 Now you can sand them, cut off the excess clay, paint the edges, seal them. It is up to you.
I chose to make mine into family trees as gifts for the grandparents. This is a fun project to do with the kids. My daughter made one of her own creations with all of my scraps. I made single family ornaments for friends and finished them off with a gingham bow.